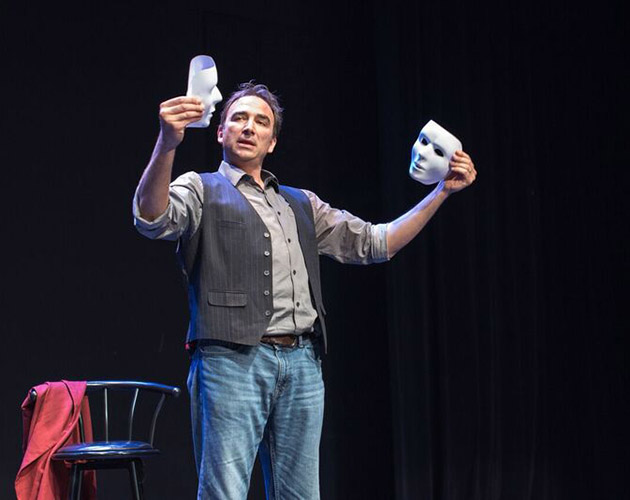 Mask Workshops turn Victims into Victors in Trial Lawyer Theatre
Colorado Springs, Colorado, September 17, 2018.
Tell the Winning Story uses mask techniques with trial lawyers and clients alike to aid in showing the human spirit in the courtroom and fighting against the natural urges to cast themselves as the 'characters' they think the jury wants to see them as.
In a recent episode of the Trial Lawyer Nation podcast, Host Michael Cowen sits down with communications specialist, speaking coach, and jury trial consultant, Jesse Wilson. As a student of Julliard and with a background in theatre, TV, and film, Jesse's transition to the trial lawyer consulting world doesn't seem ironic at all seeing as every courtroom shows us different characters. Ask him what he does, and his answer is "I help human beings become human beings in front of other human beings," describing his talent to a "T." (See Trial Lawyer Nation)
Jesse discusses in more depth the need not to show emotion but rather to be emotionally available and the need to show that your client knows joy, can feel joy, and is fighting for joy. If you don't do that, then you end up becoming your own audience member and the jury no longer can become the "hero." It's the worst thing that can happen to an actor as well as for a trial lawyer. In the end, our job as lawyers is to show what our clients have lost, and to do that we need to show the jury what they had by talking about the times of joy. We, and the jury, can feel the loss 1,000 times more through the joy than through the grief. In other words, Jesse points out, we don't need to show their grief or tears, we need to show that they are a fighter; and the subtext in this paradox is revealed that the one thing that is more powerful than a man crying is a man trying not to cry.
About Tell the Winning Story
A Juilliard Theater graduate, after 20 years of working in the world of theater, TV, and film, Jesse Wilson has created "Tell the Winning Story" to empower trial lawyers to deliver high-impact presentations, as well as rapidly transform their communication and collaboration skills to effectively prepare clients and witnesses to testify. Jesse was inspired to create "Tell the Winning Story" after co-developing a Theater-Behind-Bars program for inmates.  The program helped inmates make powerful changes in their lives. The true power of a story always comes from inside us, the storyteller… And the path to developing a winning story begins with the lawyer owning their own story. "Tell the Winning Story" provides the lawyer the difference between telling a "hidden, safe, 'surface' story," and powerfully connecting to a story that goes right to the heart of their audience, whomever that audience happens to be. Tell the Winning Story's litigation jury and trial consulting firm helps prepare trial lawyers and witnesses to win by crafting the best strategies and identifying the most successful approach to connect and persuade jurors–culminating with the winning story. The strategies have won $10, $13, $45- and $89 million-dollar verdicts. Services include one-on-one consulting, speaking events, and multi-day workshops for CLE credit.