Jesse's presentation for litigators focus on breakthrough communication inside and outside the courtroom stage. Clients are typically looking for three things:
Take-aways that attendees you can use immediately, and long after "Come Monday… now what?"
Extraordinary content that is engaging, practical, applicable, and highly motivational
Interaction that awakens passion for powerful communication and the desire to sustain that passion in your practices and daily lives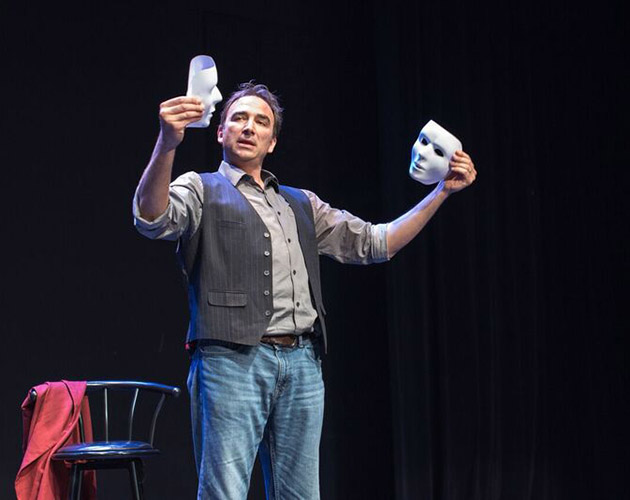 Can you give me an idea of what Jesse's Tell The Winning Story speaking presentations look like?
Jesse's keynote speeches have been described as a blend of "Tony Robbins, a U2 rock concert, and Robert McKee on steroids." If that description doesn't ring a bell, imagine every boring keynote you've ever been to–but instead of drooling in your coffee cup with info-overload, droning delivery, and death by PowerPoint, superimpose a picture of you on your feet thinking, "Damn—this is good stuff." Now you are learning as you're shifting into a new powerful emotional state with direct application to the clients you need to deeply connect to… to move them, and picture the jury deciding in your favor.
On a more technical side, Jesse's rich content is designed to reach the three Primary Learning Styles of his audiences (visual, auditory, and hands on). His presentations are constructed to feel like one-man show stage plays, infusing a multi-media experience (video, music, and movement) that allow you to feel like you're part of the show. on stage with Jesse the whole time–no separation. Which is ultimately what you want from your audience– the jury member who don't know about the law and don't want to be there!
Tell The Winning Story's digital content team of cutting edge Hollywood Filmmakers and Editors (Ethan Wilson, Sons of Anarchy, Bob Trip Masterclass Series) provide a video-narrative (as part of the presentations) the likes of which you've never seen before, taking you deeper into the storytelling experience through the lives of plaintiff's that Jesse has transformed before entering the courtroom.
From beginning to end of Jesse's keynote presentation, imagine trusting deeply that you're not just watching a flash-in-the-pan performance on stage, but are experiencing the gut-knowledge of awakened passion in how to tell not just a great story, but the right story… the winning story.
Imagine this passion for storytelling and human connection staying with you long after you've walked back to your hotel room and boarded your flight back home.
Imagine knowing you have a clear pathway to reaching your clients and future jurors in a way you could have never imagined. Something inside you has profoundly shifted and you've discovered your true power to connect to your clients and tell their story the right way.
All this in one keynote? If this experience sounds high faluntin or too good to be true, check out the testimonials from some of the country's top trial lawyers who have made the shift.  Then sign up, jump on in, get ready to deep dive into Tell The Winning Story.
What size of a group do you work with?
Any and all sizes.  Over the course of Jesse's speaking career, he has keynoted many audiences that number into the hundreds.  And he's delivered longer seminars for groups that range from 40 to 500.
Who should attend a Tell The Winning Story speaking engagement?
Although the primary focus of the Tell The Winning Story seminars, workshops, and speaking engagements are trial lawyers, attorneys at all levels find the speaking engagements help dramatically improve their communication and presentation skills, as do paralegals and technical specialists.
How long is your "typical" program?
Jesse's presentations fall into one of three categories: keynote addresses (typically 30 – 60 minutes), half-day seminars, full-day seminars, and/or half-day seminars with half-day workshops.
You can do one presentation on the same day, or two general session keynotes or a combination of keynotes and breakout sessions (to the same or several groups). The program is flexible.
Are you more of a "special event" speaker, or do you offer ongoing, long- term communication training as well?
Both. Half the time, a legal organization will bring Tell The Winning Story in to deliver a program for a select group of lawyers. Or an association will ask for a keynote to speak at a meeting they're sponsoring.
The other half of the time the team will get hired to conduct a longer series of communication breakthrough programs.
How do I find out if you address a particular topic that you haven't featured on your website?
Tell us what you want and we'll tell you if it is an area the team can address.
Will you customize your program for our organization?
Yes. Most programs have some common elements, but all are tailored for the needs of each group—in fact, the team has never given the exact same program twice.
What else do we get in addition to your program?
First, there is a pre-event detailed briefing to understand your exact challenges and needs. Second, you will receive a free set of handouts that you can reproduce for your participants. to reinforce the concepts learned.
Finally, there is a post program "de-brief" including specific steps you can take to make sure the take-aways stick and your learning objectives are achieved and measurable.
What if we need more help and training than you or your team can personally provide?
If Tell The Winning Story can't help with everything you need, then you will be introduced to numerous pre-screened and vetted alliances to help with the other areas (like mirror juries, research methodologies, etc.).
Do you ever bring your Tell The Winning Story program on site?
Yes, and often! In terms of cost, it can also be cheaper to bring Tell The Winning Story on-site, rather than send a large team to a workshop—whatever works best for your organization.