In this two-day seminar, you will be given an in-depth analysis of the trial strategies and story telling approaches that helped secure a $90 million verdict in the recent Blake v. Werner Trucking case, a case deemed "unwinnable" by many.
Texas trial lawyer, Eric Penn, and Jesse Wilson, a Julliard trained communication specialist and jury trial consultant, together with some of the nation's top trial lawyers merge their skill perspectives from both the stage and the courtroom. They will examine the skills necessary to craft opening and closing narratives that engage judge and jury and deliver the kind of emotional impact that influences significant jury verdicts and awards. Providing the emotional connection, and skills, to communicate the "heart of the story," this program will awaken you to your true communication potential.
An attorney's ability to successfully communicate, connect and persuade is crucial to success both inside and outside the courtroom. Regardless of whether you are speaking to your clients, your trial team, in settlement conferences, in every type of negotiation and especially in court, it is High Stakes Communication. Your ability to effectively and powerfully communicate your message comes down to arming the most important juror… and that's you.
Fee includes all program days, welcome reception on 11/14, breakfast on 11/14 and 11/15, lunch on 11/14 and 11/15, and morning & afternoon refreshments on both days.
7:00PM – 9:00PM: EARLY CONFERENCE REGISTRATION
8:00 AM Conference Registration
8:00 AM Breakfast in Exhibit Area, Sponsored by Knott Laboratory
9:00 AM Welcome and Overview
9:10 AM Jesse Wilson: The Eight Fundamentals of Breakthrough Communication From the State and Screen-The Origins of the Counterintuitive Approach to Storytelling
9:55 AM Eric Penn: The Most Important Juror Meets Werner Trucking Company
10:55 AM Refreshment Break Sponsored by Balanced Bridge Funding
11:10 AM Nick Nanton: The Psychology and Practical Application of Storytelling to Grow Your Practice and Help You Win More Cases
11:40 AM Emily Hawk Mills: Transforming Obstacles into Opportunities Before the Jury
12:25 PM Lunch Sponsored by Law Tigers
1:30 PM Tom Metier: Metier the Trial Artist – The Power to Lead
2:15 PM Dan Munley: Strategizing Before Trial
3:00 PM Jesse Wilson: The State Before the Story-Stepping into Your Presence, the Power of Non-Verbal and Emotional State-Management
3:45 PM Refreshment Break
4:00 PM Eric Penn: "Abandon Script." The Opening Statement and the Three Act Structure
4:45 PM Dr. Richard Ziernicki: Ground Breaking Technology Used in Today's Litigation
5:00 PM Pete Kestner: Combatting Fear and Other Defense Tactics
5:45 PM Welcome Reception in Exhibit Hall, Sponsored by: DNA Legal Brand|Story Agency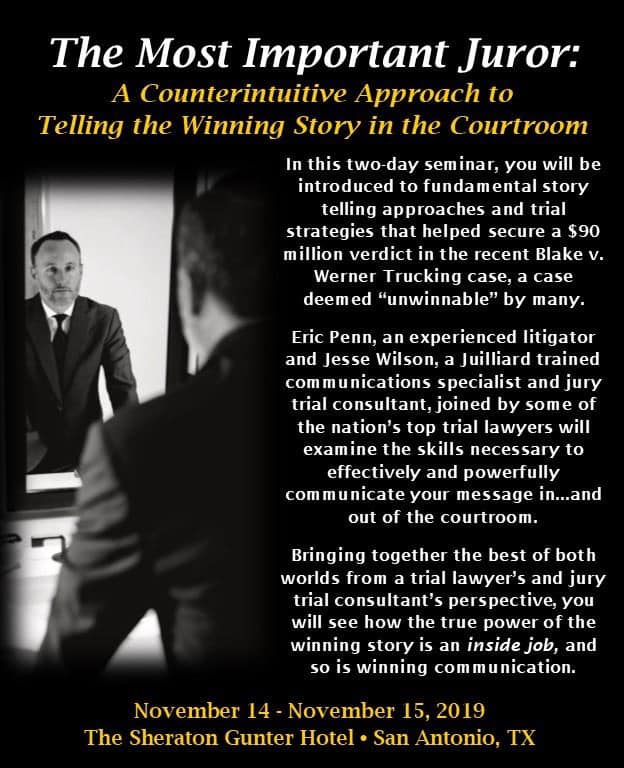 8:00 AM Breakfast in Exhibit Area, Sponsored by Texas Brain Center
9:00 AM Jesse Wilson: Transforming the Victim to Victor – What the Jury Wants and Needs to See
9:45 AM Gina Armstrong, MD: Continuum of Care for Traumatic Brain Injuries in the Outpatient Environment
10:00 AM Eric Penn: The Power of "No Fact" Jury Questions and Prioritization of Limited Time in Voir Dire
10:45 AM Refreshment Break
11:00 AM Jim Fitzgerald: Taking Your Whole Self to Trial – Being Effective From Voir Dire Through Closing
11:45 AM Pat Ardis: Having a Senior Moment – Developing and Winning Personal Injury Cases Involving Seniors
12:30 PM Lunch Sponsored by Plaintiffs MSA & Lien Solution
1:30 PM Andy Young: Using the Home as a Witness – Storytelling From the Heart
2:15 PM Tanner Jones: On Trial 24/7 – How Online Presence Impacts Offline Perception For Law Firms
2:30 PM Jesse Wilson: High Performance Skills for High Stakes Communication. Breathing, Body Movement (Spatial Awareness), Trusting Silence and the Power of the Voice
3:15 PM Eric Penn: Have You Earned the Right to Say "This is Bigger Than All of Us?" Connecting to the Greater Story and Taking the Most Important Juror Home With You
EVENT DETAILS