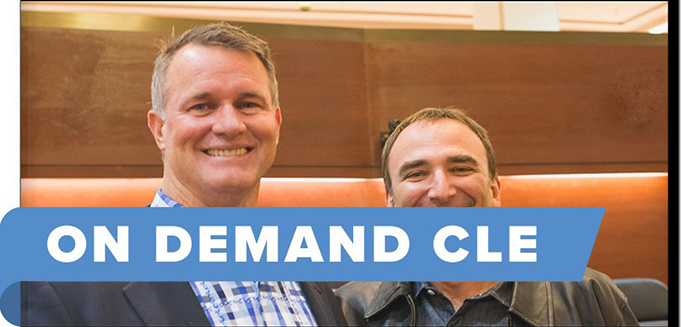 Trial Guides Releases Tell The Winning Story CLE Video Series "The 8 Fundamentals of Breakthrough Communication"
I am so excited to share this new CLE video series just released from Trial Guides. Co-taught by guest instructor Mel Orchard and filmed and edited by my brother Ethan Wilson and his badass film crew in Los Angeles, the 8 Fundamentals of Breakthrough Communication are designed to prepare the trial attorney to deliver not just a Knock Out Opening Statement and Closing Argument but helpful tools to utilize in every aspect of trial… inside and outside the courtroom stage.
Filmed over the course of 3 days in a beautiful black box theater, we explore the 3 essential pillars of Storytelling that great stage actors and directors share.
Imagination. Collaboration. Courage.
A trial attorney—in fact, every storyteller and powerful speaker—must first have the ability to Imagine the "what else" is in the story that needs to be told… before it's told. The power of the imagination signals an emotional state. Our emotions are what drives the decisions we make. Imagination, our ability to envision, is linked up with our greater ability to feel, and the more we're able to feel the greater we are able to imagine.
To become an effective storyteller, Mel and I believe you have to use all those areas of your life that are holding you back; all those areas you need to "flip the script" on. And that becomes just as much a trial skill as it does a life skill. When we utilize our greatest "weaknesses" in story, our greatest weaknesses become our greatest strengths. (I like to call it "armored nakedness.")
Providing the emotional connection to communicate the "heart of the story", Mel and I wanted this introductory video series to inspire trial attorneys to their true communication potential and get them on the path to Performance Mastery.
We strongly feel we've accomplished that.
This project has been a labor of love. I'm very grateful to the incredible Lisa Carper and the entire team at Trial Guides for helping see this through.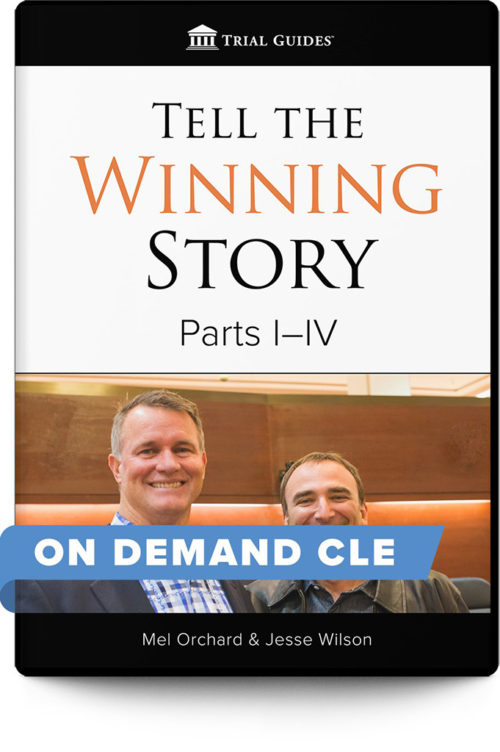 A Deeper Look at What's in the CLE Video Series
Have you ever watched the film version of a favorite book, only to feel dissatisfied at its retelling, or, conversely, felt a filmmaker breathed new life into a desiccated text? These experiences exemplify the importance of how well a story is told. Whether it's a fable or historical account, a Shakespearean comedy or courtroom drama, effective and engaging storytelling is the key to capture and keep an audience's attention.
Since founding Tell the Winning Story, these fundamentals have been instrumentals in helping win many high-profile and high-stakes cases, including Blake vs. Werner Trucking, in which Penn Law Firm used Tell the Winning Story to persuade a jury to find Werner Enterprises negligent in a 2014 trucking collision, in the amount of $90 million awarded to a family who lost a son in the crash. It was the largest verdict against Werner in the company's history.
The 8 Fundamentals of Breakthrough Communication video series helps trial attorneys and their clients achieve justice through the power of story and presentation. The series covers every aspect of the story writing and telling process, from opening statements to closing arguments, in addition to keeping the audience (jury) engaged and invested throughout.
The 8 Videos
The series kicks off with finding your passion and leveraging it to get to the heart of the case and conveying this emotional congruency and impactfulness to the audience. It continues with "flipping the script" and finding the value in conflict. The third video instructs on revealing the power of choice. Identifying the point at which you, your client, and your jury must make a singular choice in the scene by scene narrative of your story is where the emotion connects, where the jury relates, and where you can lock up your case. You will learn how to develop the right language, themes, and 'power anchors' essential to any winning story. Next is a fourth video that instructs on ensuring the story you tell is one of perseverance, not pity ("The Winning vs. Whining Story"). Fifth, Mel and I discuss how to dig deeper than the surface to connect with the client, judge, and jury on a deeper level. In the sixth video, we discuss tapping into emotional states using theatrical tactics to make a more compelling story. Next, we examine the "power of the pause" or non-verbal communication. Finally, the series wraps with a discussion of how these principles and tactics can benefit you, the lawyer, beyond the courtroom.
In Conclusion
One of the coolest things I've gotten to see with the use of these 8 fundamentals is that they empower people from all walks of life, from prison inmates and addicts, athletes, to high-profile CEOS.
When it comes to working with trial attorneys, my desire with Tell the Winning Story isn't simply to help the 'victims' in plaintiffs' or defendants' criminal cases, but the lawyers as well, many who are battling addictions and mental illnesses themselves.
These are the "hidden masks" of lawyers… the dark element that keeps them blocked more times than not from the right story to connect the jurors to.
Perhaps one of the most powerful communication tools in trial advocacy and skills training helps attorneys use their pain to realize their true potential and power as great communicators.
When you remove the mask, you set the stage for your greater story to begin!
It's been such a thrilling ride sharing these fundamentals with more and more people. I look forward to connecting with you soon.
~ Jesse Wilson
Working with You and Your Trial Team
I'd love to talk to you about working with you and your trial team on your current or upcoming case. Please feel free to give me a call.
Ways to benefit from Tell The Winning Story: