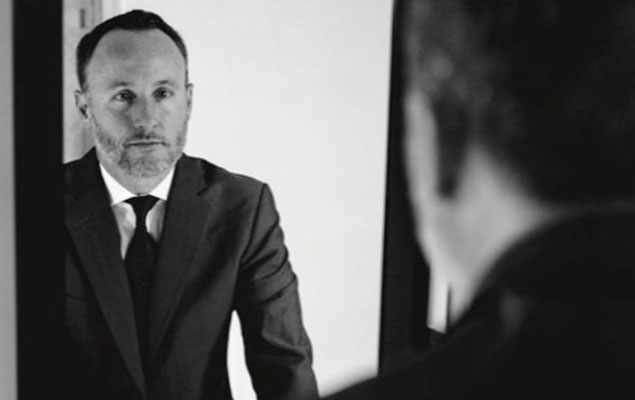 The Most Important Juror
On November 14th-15th in San Antonio, Texas, my good friend and excellent trial lawyer, Eric Penn, and myself are excited to invite you to a program that we, along with an all-star lineup of engaging and proven trial lawyers from across the country, are presenting.
You may have seen the brochure for this program with the picture of Eric staring at himself in the mirror. That image symbolizes the starting point in a case and trial for both of us: you have to get the man or woman staring back at you in the mirror on board with your case first before you can tell your client's story in a way that leads your audience to where you need them to be.
So how do you do that? The answer for us is to start with these two inextricably intertwined questions: "What is this case about?" and "Why should I care?"
This from Eric:
"We don't believe in formulaic or cookie cutter approaches to anything in trial work. Every client, every judge, every case and every trial lawyer is too different for formulas to be of much use. But we do believe that when you enroll yourself as a juror in your case and put in the work to answer these two questions, you will start to see as a trial lawyer the roadmap to guide your fellow jurors to the same place that has convinced the Most Important Juror that this is a winning case. This is the process of 'arming the Most Important Juror.' We will explore a variety of different techniques, from different yet successful trial lawyers, to help you learn how to arm your most important juror in all types of injury cases."
Whether we realize it or not, we are all storytellers. Judges and juries are our audiences. The intersection of our two worlds as both trial lawyer and jury trial consultant holds fascinating possibilities for us as storytellers.
A Deeper Look Into The Most Important Juror
"The play is not in the words, it's in you!" – Stella Adler
Actors Think Alike
When asked separately, years apart from each other three great actors—Robert Duvall, Marlon Brando, and Rod Steiger—gave similar answers to the same question, "What's the difference between great actors and good actors? The answers all three gave were identical, "For the great actor, it's really happening to him."
That's the power of the theatrical experience when woven into whatever stage you're performing—whether it's the courtroom or Broadway. The secret to a winning performance is believing in the truth of whatever you're presenting. If you're presenting a brief on a physical or mental or spiritual impact you must convey the entire journey through your active and vibrant story telling ability.
It's not just in elocution or projecting your voice to the third row balcony. No, it's first finding that place within YOU—the most important juror—where the story lives. The jurors before you will never believe you, and indeed, will dismiss you, if your inner juror doesn't show up real.
It's not an act we're talking about. Not a noun. It's an action. A verb. It's a dynamic entity of feelings that must be expressed in a way that others absolutely, 100% feel what you are feeling. Are you talking about a physically painful experience? You must feel it so deeply that even without words we know the rawness, the loss, the terror, the impact.
Peter Guber (American business executive, entrepreneur, educator, author, Chairman and CEO of Mandalay Entertainment) said it best when he expressed the fact that,
"Language is more recent technology. Your body language, your eyes, your energy will come through to your audience before you even start speaking."
Pierre Boulez, legendary composer-conductor said about conducting the orchestra in order to communicate the power and beauty of the musical performance,
"You have to convince people of your point of view. You have to know the culture, to know the score, and to project what you want to hear."
That's exactly what you, The Most Important Juror, must always remember: You want to express the very message that you, yourself, need to know and feel and hear first.
J.D. Coburn, Acting Teacher says,
"Permit your truthful, instinctive, emotional response (the one that happens TO YOU, not the one you MAKE happen.) Those are the fundamentals shared by good actors and great actors alike"
Break out from Under the Mask
It's one thing to read or hear what you need to do in order to convince your jurors and win your cases. It's another to put into practice the stages that lead to success. One of the main steps out of the gate is to break out from under the mask. We all wear one. We all tend to hide those aspects of ourselves we don't want others—mostly ourselves– to see or know about, but now you, as a Trial Lawyer, must shed that mask.
The Power of Vulnerability
Marcus Geduld, Artistic Director, Folding Chair Classical Theatre, NYC says this about the power of vulnerability:
"Great actors share the parts of themselves that most people keep hidden. They are always naked. (Some are literally naked, but I'm talking about emotional nakedness.) Bad actors are guarded. They don't want to share the parts of themselves that are ugly, mean, petty, jealous, etc.

"There are so many examples of actors being naked on stage and screen. My favorite is Rosalind Russell in the movie "Picnic." Rent it some time if you haven't seen it. She plays a middle-aged schoolteacher who is in danger of growing old and dying alone. There's a heartbreaking scene in which she begs a man to marry her. She goes down on her knees in front of him. She gives up every scrap of dignity inside her and lets the scared, hurting parts of herself burst out.

"These are the same scared, hurt parts that are inside all of us—the parts we work hard to hide. Hiding them (by holding them in) takes a toll on us, and one of the greatest gifts actors can give is to sacrifice their dignity for us. They expose themselves so we don't have to. They are like Christ dying for our sins."
More and more trial lawyers are discovering the power of finding their own inner juror and it's not only exciting—it's essential. They're winning big cases because they're leaving their fear at the door and going the extra mile to tell that big story in a way no one's heard before. The thing is, they are vulnerable and open and ready to find the most powerful way to bring a story that must be told to life.
When we get rid of the story we want to tell versus the story we have to tell… watch what happens.
The work I share across the country was developed while teaching theater in prison. This coming week I'll be co-teaching a two day workshop with inmates with my buddy David Fein. Based upon the principal of "The Role Reversal," the mask work has become a success tool for Lawyers, Leaders, Veterans, Inmates, People In Recovery, Athletes, Teachers, Entrepreneurs, and all who defy titles looking to give their peak performance and "live their greater story" in every area of their lives. Thanks again Patrick Smith! Had a blast laughing with you.
There is a greater role, and a greater story hidden behind the masks we all wear. Within each of us is the power to unmask our hidden, raw potential and transform that authentic power into the greatest realization of ourselves in virtually every area of our lives.
When we remove the mask, we set the stage for our greater story to begin.
Trial Lawyers — register NOW for "The Most Important Juror" in San Antonio, TX on November 14th-15th
Join us along with Pat Ardis, Jim Fitzgerald, Pete Kestner, Tom Metier, Emily Hawk Mills, Dan Munley, and Andy Young as we take a deep dive into the exploration of the skills and fundamentals that have proven to be invaluable in crafting opening and closing narratives that engage judge and jury and deliver the kind of emotional impact that influences significant jury verdicts, including our Blake v. Werner trial that Eric Penn and I worked on together.
Learn storytelling insights for all phases of trial from the talented and experienced faculty. Our collective desire in this program is to further you along your storytelling journey by exploring how to find the emotional connection to your case to effectively communicate "what this case is really about," and "why you should care" to your next judge and jury.
Working with You and Your Team
I'd love to discuss working with you and your trial team on your next case. Feel free to give me a call.
Among the pre-trial and jury trial consulting that I share with trial lawyers across the country, here are other ways to benefit from Tell The Winning Story:
Law Firm CLE Customized Workshops
Monthly CLE Accredited Workshops
Executive Silver/ Gold/ Platinum Coaching Programs