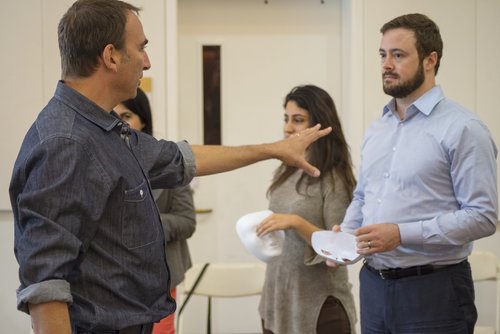 It's An Inside Job
THE JOURNEY WITHIN: UNCOVERING THE DRIVING FORCE OF A GREAT COMMUNICATOR
If you were about to take your last breath and leave this world behind, would you be satisfied that you fully engaged not only with who you are, but with others as well during your lifetime?  At the moment you take that last breath, it will be very clear that life is about far more than legal briefs, theories, and courtroom strategies.
What do you see when you look in the mirror?
If your reflection centers around achieving the biggest verdict, then you may have missed the point. Life is not always about the verdict, but the pathway leading to the big jury decision that affects your client's future – forever. Connecting with who you are and 'Why' you are in the larger context of your client's story leads to victories that transcend monetary figures attached to verdicts.
But the mere desire to win is never enough. Winning requires you to pour your energy and emotion into the client's story to convey it's true meaning and power.
The question is, "where does the real story we need to not just tell, but live, reside? As Gerry Spence reminds us, "It begins with you." Every great story you're ever seeking 'out there,' within the theater of the courtroom, lies within you. The greatness of emotion, and all the rich themes we seek to weave into our legal arguments are waiting inside ourselves.
Revenge. Integrity. Jealousy. Faith. Betrayal. Justice.
Being fully engaged with every aspect of your client's story and drawing it out of them allows you to develop the beautiful, unspoken moments in-between the conclusions. It's a skill of those who are not just able to tell a good story, but those who are passionate about telling great stories and who become great storytellers through that passion.
PASSION IS THE DRIVING FORCE OF GREAT COMMUNICATORS.
The ability to transform communication challenges into strengths only comes from having the passion to communicate a story in the most powerful way that it can possibly be told.
You hold the universal human story within you. We all do, and it's in your DNA to want to share that story. To share that story in a powerful way requires a visceral connection to the five fundamental human emotions; anger, sadness, fear, disgust, and joy. It's the visceral connection to these emotions that allows passion to shine through both the verbal and non-verbal cues on the courtroom stage to uncover and convey the nuances and subtleties of your client's story.
YOUR COMMUNICATION CHALLENGES ARE YOUR PASSION IN DISGUISE
Through your experiences representing clients, have you identified your greatest communication challenges inside and outside the courtroom? Do you have a grasp on what may be holding you back and how overcoming those challenges can reveal the passion within you so that you can motivate juries to believe in your clients and their stories?
Developing great communication skills enhances your personal and professional roles and the resulting confidence in your own story benefits every aspect of your life in both tangible and intangible ways. But the true reward comes from taking that journey within yourself, uncovering your passion, and becoming the great communicator that you were born to be.
THAT, IS AN 'INSIDE JOB.'
Working With You And Your Team
I'd love to discuss working with you and your team on your next case. Please feel free to give me a call. Among the pre-trial and jury trial consulting that I share, here are other ways to benefit from Tell The Winning Story:
Law Firm CLE Customized Workshops
Executive Silver/ Gold/ Platinum Coaching Programs
Monthly CLE Accredited Workshops
Webinars